P
Pacific Northwest Wedding Venues
I've been lucky enough to photograph couples getting married in the PNW for a while now. Because of this, I've seen quite a few incredible Pacific Northwest wedding venues in my time. We are so spoiled in this part of the world, with adventure on our doorsteps & soul-soaring beauty like nowhere else. The mountains, forests, rivers & coastline here in the Pacific Northwest are truly worthy of the epic loves and tender stories I've been able to capture here. 
So, if you're thinking about getting married in the Pacific Northwest, I'm a huge fan of the idea. As a nature lover, there's no better part of the world to get married. In order to help you find the perfect spot for an adventure of a lifetime, I've put together this list of the best wedding venues for each state. Here, we cover everything from glamorous resorts to intimate cabins. Whatever wedding experience you're dreaming of, read on to get inspired!
Pacific Northwest Wedding Venues in Idaho
I think Idaho is truly a hidden gem when it comes to the PNW, making it an idaho wedding photographer's dream. All over the state, there are incredible sanctuaries of nature for your elopement or intimate wedding. Particularly, the Sawtooth mountains alone are just mind-blowing! For a more private escape, check out my guide to the best places to elope in Idaho. On the other hand, here are my favorite Idaho wedding venues for larger gatherings!

Accessible only by Gondola, this spot has unrivaled views of the Sawtooths. Looking over glittering peaks in winter & lush forests in summer, the deck is the perfect place to share your vows. Whether you want an intimate Sun Valley elopement or you're imagining raising a glass with all your friends & family, this is the place for you!
Located on the Sun Valley Ski Resort, this spot is better for larger gatherings. Significantly, it has beautiful views of Bald Mountain, with a ceremony site in the beautiful lawns and gardens. For your reception, Trail Creek Pavilion has a gorgeous wedding tent with all the trimmings.
On the other side of the Sawtooths from Sun Valley, you can get the best of both worlds with lake & mountain views at Redfish Lake Lodge. The Lodge has a rustic charm, and the dedicated events team will take care of every detail. Imagine, you could hold your ceremony on the lake shore with the reflections of the mountains soaring up behind you! There are five cabins available for you and your guests, plus more accommodation in Stanley. Moreover, it's one of my favorite mountain towns to visit as an adventure photographer, with great hikes, hot springs, & sweet small-town businesses.
Lastly, this is an A-frame cabin surrounded by woods & close to the Payette River. The design of this spot is impeccable! Picture the deck space strung with lights and open to the woods for a unique ceremony setup. Alternatively, you could opt for a woodland ceremony and come back to the A-frame for a beautiful dinner. As an Airbnb, you have more privacy than other, commercial Pacific Northwest wedding venues could offer. On the other hand, you won't have help from an events planner or in-house catering, so hire a vendor team you love to help make your dream come alive!

Pacific Northwest Wedding Venues in Wyoming
Some of the most sumptuous wedding venues with vastly unique experiences happen to be here at the feet of Wyoming's Great Teton mountains. Furthermore, the iconic beauty of the jagged peaks that make up the Teton range will change your life.  Altogether, this portion of the PNW has the potential to house the best elopement or intimate wedding celebrations. I've spent much of my personal time exploring the area, and would love to be your Grand Tetons wedding photographer.

First on the list, you'd be living in absolute luxury at this modern, high-end boutique resort in Jackson Hole, Wyoming. With easy access to the Grand Tetons National Park and the quaint qualities of the mountain town, an Amangani wedding gives you the wildness of the mountain beauty & the ease of world-class hospitality. There's gourmet menus, holistic spa treatments, adventures like skiing, and even dog-sledding at your fingertips. Amangani is a great honeymoon spot, an amazing wedding destination, and even an incredible base camp for your Grand Tetons National Park elopement. Besides, I know a gal who would be psyched to be your Amangani wedding photographer!

This Tetons resort has developed a longstanding reputation for being a quality, guest-focused resort with genuine Western hospitality. It has perfected the rustic mountain charm that characterizes so many amazing Pacific Northwest wedding venues. This one stands out from the rest with its scenic high-alpine destination in the Tetons. Hence, its majestic mountain views. If you're planning a Wyoming wedding with a good-sized guest list, this is the venue to choose!
On the other end of the spectrum, we have this luxe AirBnb. Also with mountain views, this spot is perfect for a destination getaway with 10 of your favorite people. From amazing scenery on the deck and a relaxing hot tub for staying in, to ready access to Teton Village, nearby ski slopes, and Yellowstone National Park for the adventurous-minded. For this reason, it would make the perfect home-base for a gorgeous Wyoming elopement!
Pacific Northwest Wedding Venues in
Montana
Another incredible place, Glacier National Park boasts some of the wildest & most impressive scenery in the US. It's one of my favorite places to wander with couples for their Montana wedding or elopement. There's endless opportunities to bask in nature's glory, and you'll be humbled at almost every turn. Hire me as your Montana adventure wedding photographer, and we can witness it all together!

If you're looking for a mix of luxury & adventure, you have to check out Under Canvas. This is a glamping experience surrounded by impressive nature, right outside of Glacier National Park! You're camping among some of Montana's most spectacular sights, but you still have an en suite bathroom. Sounds like the best of both worlds, right? You can use this spot for your Pacific Northwest elopement by booking one tent for your solo getaway. In addition, you can even book out the whole campsite for a unique wedding venue your guests will remember forever.
Second, if you're looking for professional Pacific Northwest wedding venues in Montana, Great Northern Resort's Glacier Park wedding & events is worth considering. These grounds are ideally suited for an outdoor wedding with panoramic vistas of the peaks that make up Glacier National Park. In fact, they offer chalet accommodation for your guests, and their beautiful wedding tent is a blank slate for your vision.
For one of our more intimate Pacific Northwest wedding venues, check out this glorious AirBnB lodge. It's a sweet retreat for you & a small group of your favorite people. Also, it's 10 minutes from Glacier National Park! Decorated in Montana country-western style, one of the most charming features is a huge covered porch. It would make an incredible space for an intimate reception dinner.
Pacific Northwest Wedding Venues in
Washington
Washington's wedding venues are truly something special. The dynamic scenery covering the state makes it a hot spot for adventure weddings & elopements. I've been privileged enough to make so much work amidst its glory. As a result, I know all the best locations for your intimate celebrations. Check out this short list of my favorites, and book me as your pacific northwest wedding photographer to learn more!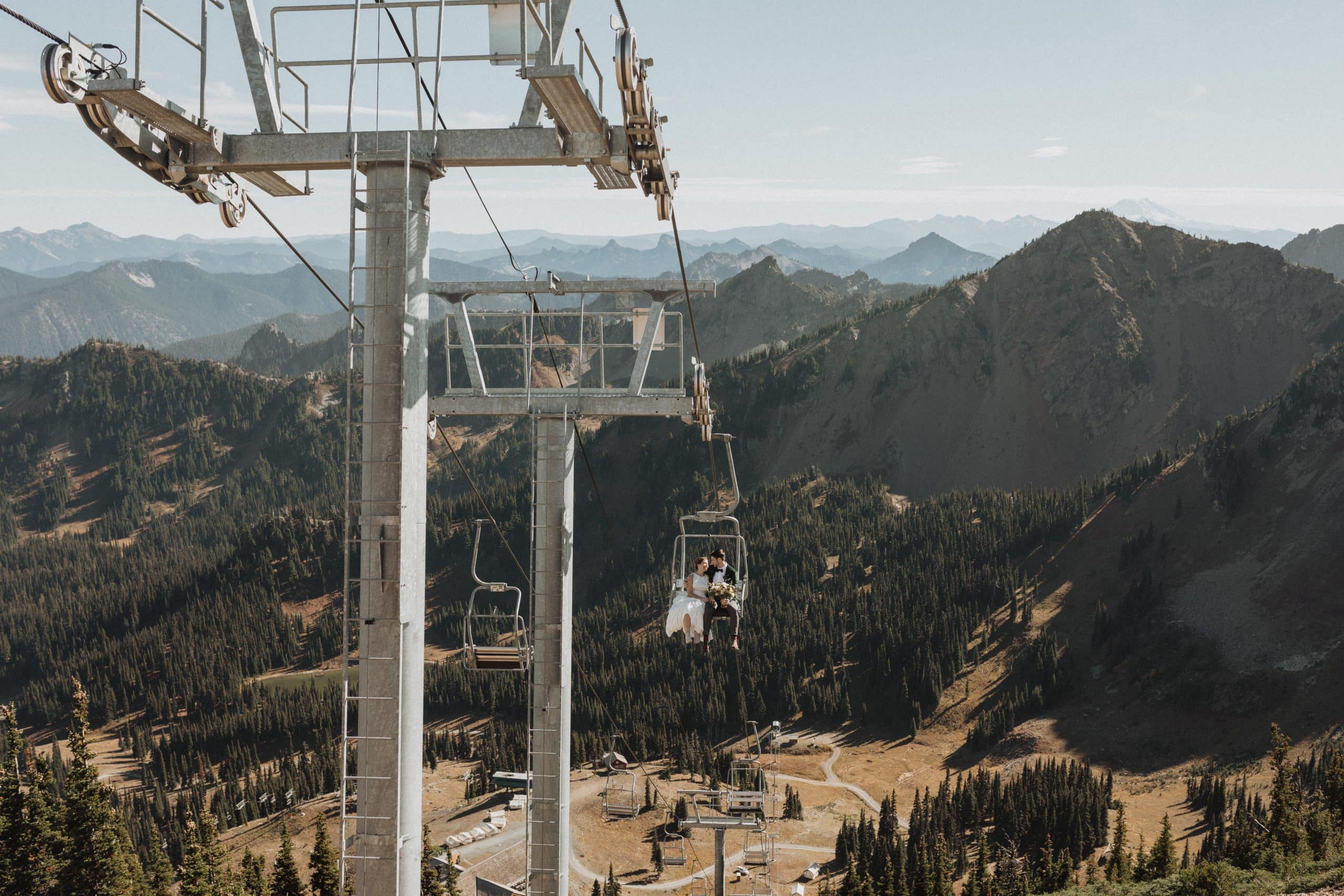 Similar to the wedding venue by the same name in Glacier, this site is a glamping destination on a ridge under the shadow of Mt Rainier. It has the added adventurous aspect of being accessed only by Crystal Mountain's ski lift! Moreover, the campground has been recognized as one of the best resorts in the USA.

Second, this might be my favorite out of all the AirBnB Pacific Northwest wedding venues on this list. It's largely because of its beautifully stylish design & detailing. The double deck, with it's spiral staircase and hot tub, is such a unique feature. Even more so, this location has great access to the incredible mountains in Mt Baker Snoqualmie National Forest. For more amazing AirBnB wedding venues in Washington, read my guide!
Tucked away in Icicle Canyon in the beautiful Central Cascades of WA, this resort is a breath of fresh air. Plus, it's only minutes from downtown Leavenworth, a Bavarian-themed village with the most charming atmosphere. Check the image below for the vista of the canyon's most popular hike, just a short drive away. Truly, it's a storybook escape!

Pacific Northwest Wedding Venues in
Oregon
True to this state's reputation, these Oregon wedding venues are creative & out-of-the-box. Their unique atmospheres allow you to return to nature in the most curated & delightful of ways. Also, trees! There are so many wonderful stretches of forest to admire for your wedding and elopement experiences.
First, this stunning creation is one of the most spectacular Pacific Northwest wedding venues I've ever seen. It's a platform suspended in the towering pine trees over a wild, misty view. Deep in the forest, it's a venue to discover if you want to give your guests an unforgettable experience.
Another, Loloma is a beautiful camping group getaway nestled in the thick trees of Willamette National Forest. It offers adorable cabins as well as camping space. If you choose to book it as a wedding venue, you get to use the entire resort. Because of this, it's a wonderful private space for you & your friends and family to enjoy to your heart's content. Hold your ceremony right on the riverfront. Then, for your reception, you can use their covered stage, their carriage house, or an outdoor extravaganza in their lawns and gardens. Being an hour from Eugene and just under two hours from Bend, this is an epic escape from the world!
Last on this list of Pacific Northwest wedding venues, we have this exquisite and intimate luxury Airbnb. This space is perfect for a small wedding or elopement. Picture dining under the stars, with lights in the trees & all your favorite people piled around the table. Moreover, every element of this cabin has been thoughtfully designed to make this the most magical of getaways!
Getting Married in the Pacific Northwest
In conclusion, I hope you've found a venue here that ignites your imagination & gets you excited for what this most special of days could be like. Whether it's a private and perfectly-formed cabin in the Oregon woods or a luxurious ski lodge on a mountain in Idaho, the PNW really does offer it all. I am so thrilled that you get to discover it with the love of your life! Likewise, I would be honored to adventure with you and document your Pacific Northwest Wedding or Elopement!

If it's an elopement that you're dreaming of, be sure to peruse my guide to the top elopement destinations in the Pacific Northwest!
DID YOU ENJOY THIS BLOG POST? PIN IT FOR LATER…