D
Destination Elopement Guide
Choosing a destination elopement to celebrate your marriage offers a really unique experience. Not only does it give you the opportunity to travel to new places, but it solidifies these memories with an exciting adventure. You get to ask yourself "where in the world have I always wanted to go?" or "what vacation spot is already really special to us?" & consider making that place the background to these significant moments!
Having a destination elopement may mean you have to sacrifice certain traditions of a local wedding or have a much smaller guest list, but if you are more untraditional at heart & traveling deeply inspires you, the trade-off for this beautiful adventure is totally worth it in my opinion. You may be wondering where to start– there are countless incredible spots to choose for your destination elopement, logistics to consider, emotions to navigate, and more! In this blog, I'll break down everything I know about eloping in a destination location to help make this process less stressful for you as you're planning!
Choosing your Destination Elopement Location
First things first: where are you headed?
Review your budget
Your budget will heavily influence your destination elopement experience, so sitting down with your partner and making sure you're on the same page is important. A big thing to discuss is how much you're able to spend on travel accommodations, as this will impact where you're able to go for your elopement. Do you want to travel to a new place you've been dying to visit on the other side of the country, or even make your getaway an international adventure? One thing to remember as you think through all of this: while elopements are typically thought of to be a "cheaper" option than a traditional wedding, this is still a once-in-a-lifetime opportunity, and these are some of your most important memories. Your destination elopement is worthy of your investment!
Decide if you want to invite guests
Some couples want their destination elopement to just be the two of them, while others want to invite a small group of family &  friends. Each lends to separate, valuable experiences but deciding who you want there will factor into your elopement spot, depending on how far your guests are able to travel & what their accessibility may be (furry friends included). Certain ceremony locations require more physical activity, which is important to consider for all of your guests. Also, National Parks have limitations on the number of people you can have at certain sites, as well as limitations for animals on trails, so be sure to do some research on what is required.
Choose a meaningful place
While there are many beautiful areas to think through, one way to ground your destination elopement in meaning is to pick a location that holds some sentiment to your relationship. This can look like many different things: do you have a significant memory, such as your first trip together? Is there a place you two have always dreamed of & talked about visiting? Dig deep and reflect on your journey to see if there's any way to tie that into a place that embodies who you two have become together.
Let activities guide you
One thing that is really special about destination elopements is the opportunity to cultivate an outdoor experience around activities you love as a couple. Certain areas support certain activities that you can engage in on your elopement day.
Maybe you love water sports– pick an area with a lot of water, such as Lake Powell, allowing you to explore by boat or kayak to a hidden slot canyon or even take a swim when you finish exchanging your vows. Or say you love rock climbing–choose a location near to your favorite crag so you can finish your day sending a route together as the stars come out.
If hiking is your passion, pick places with world-famous hikes like the Italian Dolomites. You can even take time to unwind before your elopement in nature's most relaxing bath by picking a spot near a natural hot springs. Think about what you love doing together as a couple and if there are specific ways you can add that to your experience through what different destinations & landscapes have to offer.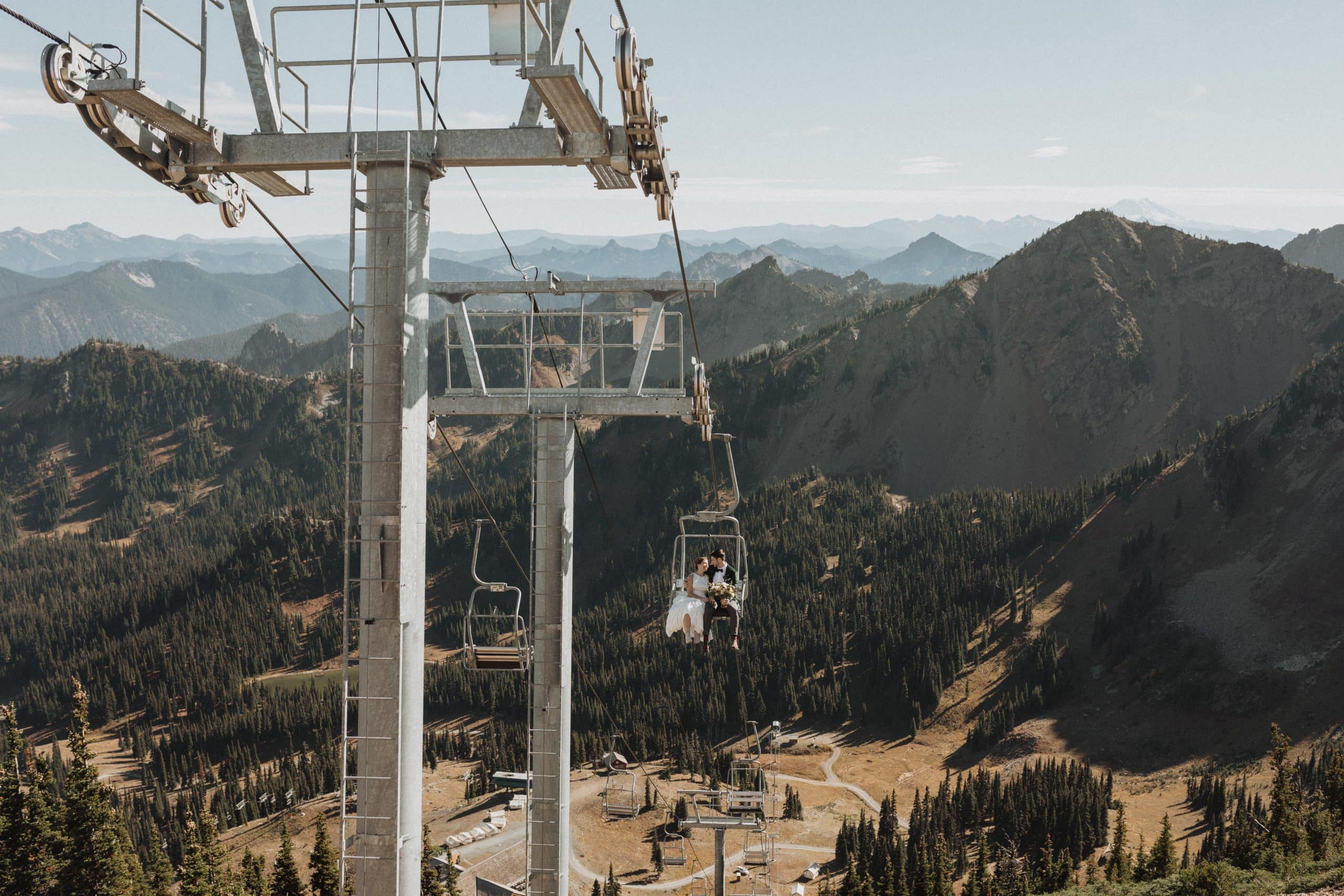 Think about landscape
A huge cornerstone of my business is the power of landscape and the influence it can have over your wedding celebration. While these places make great backgrounds for photos, they are so much more than that. Each piece of land varies from the other and holds its own incredibly complex beauty. There's red rock, giant granite mountains, desert cactus, forest floors, and coastal cliffs, just to name a few, & you get to choose which of these places will interact with this pivotal moment of your life. Take time to consider together what kind of views humble you, make you feel most calm or most alive, and inspire you to love. That's the landscape you want around you for your destination elopement.
Bucket List Locations for a Destination Elopement
There are so many epic places on this earth that I'm dying to visit. If you book at any of these locations on the list, I will give you a 50% discount on my travel fee!
↠ Dolomites, Italy
↠ Amalfi Coast, Italy
↠ Tuscany, Italy
↠ Iceland
↠ Scotland
↠ Ireland
↠ Santorini, Greece
↠ Tulum, Mexico
↠ Baja California, Mexico
↠ Patagonia
↠ Paris
↠ Hawaii
↠ Peru
↠ Amangiri, Page AZ
↠ Amangani, Jackson Hole WY
↠ Lake Powell
↠ Moab, Utah
↠ Death Valley
↠ Alabama Hills, California
Pick a Date
Once you nail down your location, you'll be able to decide your date! A good place to begin is thinking through what season you enjoy doing outdoor activities the most, or how each season affects your desired location. Some elements of your timeline will be dependent on the different weather that every new season brings, so carefully research how they will impact the memories you want to make. 
Are you hoping to breathe in the smell of wildflowers blooming? Then Spring or Summer in the mountains may be perfect for your destination elopement. Maybe you want Fall foliage to color the views around you. Winter may be a bit colder, but you'll likely avoid peak season tourist crowds that form in other seasons. If you do decide to elope during a peak travel month for your destination, try to pick a weekday date to minimize crowds in popular areas!
You can get really specific by looking at old weather patterns online, hiking forums, and even some national park websites that will have tips for visiting at whatever time of year you choose. This is where it's crucial to do your research & know what you're getting into. Some areas are prone to wildfires, heavy rain, flooding, washouts, snow closures, & other natural disasters, so you'll need to be mindful of the accessibility of your location.
Hiring your Destination Elopement Vendor Team
Your vendor team is truly going to bring your adventure destination elopement day to life. This is why picking businesses you feel connected to & confident in is key! Refer back to your budget and see which areas you can invest more in hiring your dream team, and where you need to approach things with a little more DIY or sacrifice spending.
Starter List for Elopement Vendors
↠ elopement planner
↠ officiant
↠ videographer
↠ florist
↠ rentals
↠ hair & make up
↠ cake/bakery
↠ caterer/food
If you are choosing to elope in a foreign area or a place you've never been, I highly recommend investing in a destination elopement planner, as they'll be more connected to local vendors & important tips for the area that you may be unaware of.However, if you choose to not hire one, there are still ways to search for vendors to make choosing your dream team easier! Check hashtags on Instagram specific to your destination: #(elopement location)(vendor type). You can also Google search vendors this way to help find their websites & see if you'd be a good fit!
Tips for Booking Travel & Lodging
Once you choose your date, location, and vendor team, it's time to book your travel. Incorporating travel into your elopement experience is one of my favorite aspects of this process. Experiencing different cultures, natural beauty, & foreign places has a profound influence on creating incredible memories. I travel quite a bit for elopements and have learned a few things along the way that I can share with you to make the logistics easier.
Plan a road trip
You may be able to hop in a car &  plan a road trip to your elopement, which I highly recommend doing if that sounds like your jam. There are a ton of companies you can rent quality camper vans from, allowing you to have a home on the road while you travel. Out West, you'll be able to find some incredible car-camping spots close to beautiful scenery.
For campsites in national parks or other popular nature areas, check their reservation policy and try to book beforehand if you can, to secure your spot. If you're a little more go-with-the-flow, there's also a ton of BLM land that is free to camp on. You can find these spots with apps like iOverlander or checking freecampsites.net.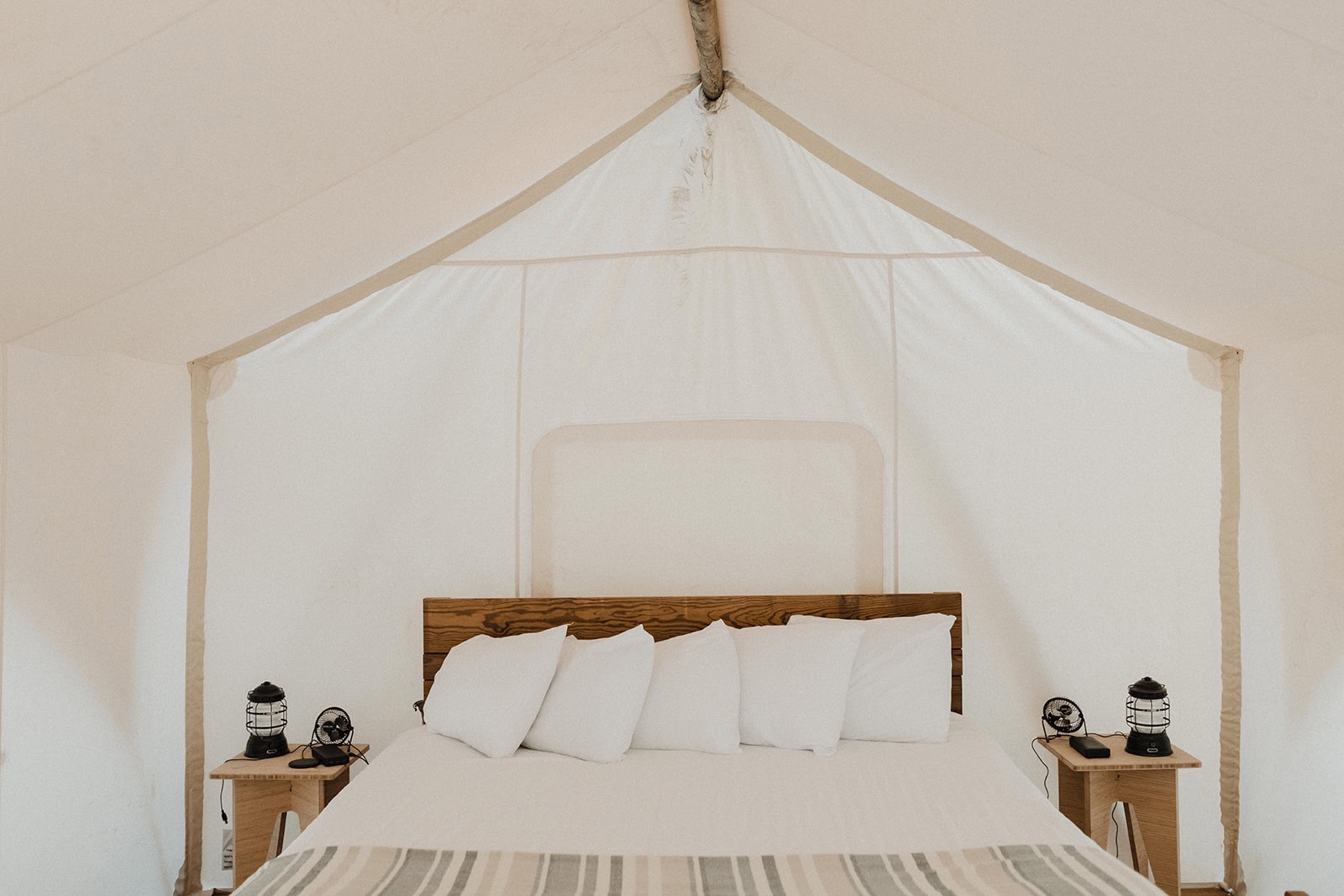 Booking airfare
If you want to maximize your time in your desired elopement destination, then I recommend quicker travel through airlines. The further you book in advance, the better deals you will get. My favorite way to book is through Google flights because you can compare rates throughout the calendar month/year.
One way to significantly cut travel costs is to purchase an airline or travel credit card for your destination elopement. These cards will give you a large sum of travel points (sometimes 70,000 points) after a certain amount of spending with the card, which isn't hard to match when you're making big purchases for your elopement planning. Do research to figure out which card meets your needs, but I like the Capital One Venture card! This will help with the cost of travel significantly, as you could cover the cost of your airline tickets, hotel, or rental car!
Lodging
There are so many unique ways to incorporate your lodging into your desired experience. Stay at a luxury resort near a national park, with endless amenities at hand, or book an Airbnb, giving you a more private, home-away-from-home feeling. You can even rent a destination property through Airbnb or Vrbo and have your ceremony on site.
I've seen couples have their ceremony on the deck of A-frame cabins in the mountains, rent an Italian villa in Tuscany for their friends & family & have their ceremony on the property overlooking the Tuscan hills, and even purchase an all-inclusive wedding package at an adventure resort on the beach of Puerto Vallarta, Mexico– so dream big!
International travel
I highly recommend traveling abroad for your elopement, as you walk away with a truly full, cultural adventure. However, traveling abroad can make things a little more complicated, so make sure to prepare well.
↠ Bring currency for the country you're in: I would do this at your bank before you leave!
↠ Pack outlet converters so you can use your chargers/appliances.
↠ Research the country's laws around marriage ceremonies: some countries have strict laws on places you're able to officially marry without being a resident.
↠ Read travel blogs about your destination, so you can find the local gems & best things to see.
↠ Try for a less popular month in the off-season to avoid tourists & crowds.
Destination Elopement Packing List
↠ dress & veil
↠ dress shoes
↠ jewelry & accessories
↠ travel mirror
↠ suit, shirt, undershirt
↠ tie
↠ belt or suspenders
↠ rings
↠ walking shoes
↠ wrinkle spray
↠ sunscreen
↠ coat
↠ clear umbrella 
↠ battery pack
↠ international outlet converters
↠ international currency
↠ passport (if applicable)
↠ Bluetooth speaker
↠ flowers
↠ decor
↠ details
↠ vow books
↠ rings
↠ marriage license
↠ champagne
↠ snacks
Creating Your Destination Elopement
I hope this has been a helpful guide for you as you start to plan your destination elopement! I love elopements so much & I have seen firsthand how powerful & freeing celebrating like this can be. Wishing you all the joy in the world as you take on this adventure!
Staying stateside for your destination elopement? Check out some of my guides to the best destinations: Top Elopement Destinations in Washington State, The Top Arizona Elopement Locations, and the Best Places to Elope in Idaho. Going further afield? Here are my top picks for Places to Elope in Italy. 
DID YOU ENJOY THIS BLOG POST? PIN IT FOR LATER…