T
The Ultimate Adventurers Gift Guide
With the Holiday season in full swing and the gift giving beginning, I've created a guide to help you with gift ideas for the adventurer in your life! We all know them, the ones that are fueled by mountain views, spend most of their free time exploring the outdoors, and are constantly trying to get you to come along. Maybe it's you! You're the nature lover always looking for a way to experience the next best view and friends to share them with. Either way, I hope these gift ideas bring you and your loved ones joy and adventure during this season of giving. My hope is they'll keep inspiring each of you to put yourself amidst the great beauty of the outdoors.
Parks Project offers so many unique gifts for outdoor adventurers. Their brand is dedicated to advocating for people and parks. Not only is this compact enamel mug, great for camping, but it also shows beautiful illustrations of the many incredible views that make up our national parks.

No one knows it better than me that having a cozy pair of socks to warm your feet while camping can make or break your nights under the stars. These Yellowstone Geyser Socks could serve as a comfy token of remembrance from past trips to the park or encourage future adventures to its beauty!
You can't go wrong wearing a warm beanie while you're exploring the trails, or spending late nights making smores by the fire. This one from Parks Project has the cutest mushroom & blooms pattern! Your nappy camping hair will stay hidden under its comfort, and you will be investing in the preservation of our nation's beloved parks, as Park Project helps fund vital projects for the future of America's public lands.

This adorably designed camp chair is conveniently packable and lightweight, weighing 2.35 pounds. Perfect for camping, gather around the campfire in a chair showing colorful shrooms & blooms graphics. Throw it in your pack on your next backpacking adventure, and you'll sit under the stars in style!
These portable cocktails are a must have for all of your overnight adventures and, of course, are insanely delicious! Camp Craft Cocktails make it easy to build your cocktail confidence. Each jar contains the perfect blend of dehydrated ingredients. All you have to do is add 12 oz of your choice of spirits, refrigerate for 3 days, and shake before serving!
A personal favorite, Good & Well offers buyers so many sweet scents of landscapes held dear. They'll transport you to that familiar mountain view, forest haven, dreamy desertscapes, or a myriad of other landscapes. Check out their vast National Park Collection! Thoughtful gifts for those who have visited these spaces and wish to be brought back again.
Another great product by Good & Well, their national park themed air fresheners! Hand-dipped in small batches out of their Seattle studio, these scenery based scents will make your car smell of your favorite landscapes as you commute to work. Or, stick them in a drawer to freshen up your clothes, carrying with you the ability to mentally teleport to those beloved views.
These boots have carried me through many of my own pivotal memories in the outdoors. Truly there's no better leather boot built for long days on the trail. They're ready for any conditions you may find yourself in– comfortable, light, and offer great traction for all terrains.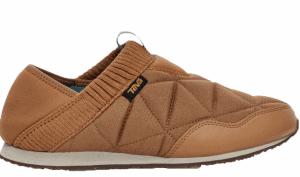 I can't get enough of these slip ons, or sleeping bag shoes as I call them. Teva has really outdone themselves with crafting the coziest, classic camp shoe. In fact, it's plushly lined and constructed from recycled materials– the pinnacle of lazy day pleasure as they say! Consider your feet in complete comfort as you mosey around the campground and gather close by the campfire.
Goodr makes the most ideal sporty sunglasses, ready for any outdoor adventure. With their no slip, no bounce, all polarized construction, they will stay on your face without worry while you're shredding down a snowy slope, sending your climbing project, or bagging another mountain peak.
Okay, this digital Polaroid is the best of both worlds, giving you the ability to capture all the sights on your epic ventures through nature! Not only can you take photos, but you can also print them onto Polaroids, giving your outdoor adventure the perfectly nostalgic feel. You can even upload other pictures from your phone, different cameras, and print them as well, straight from the camera.
Rachel Pohl is one of my favorite artists! Best said in her own words, her "colorful landscape paintings focus on that feeling of awe, wonder, and joy that arise while in nature, in the hopes of instilling a sense of urgency to protect wild places." I love this hat because of its vibrant depiction of the Indian Paintbrush flower, a cherished floral of mine. But check out the rest of her colorful apparel for more beautiful illustrations!
She also designs stunning yoga mats depicting some of the world's most iconic mountain views. Imagine your morning ritual on your mat accompanied by landscapes that humble you, placing you in a truly zen state! There's so many incredibly illustrated scenes from the Tetons, Yosemite, Sedona, Denali and more. My favorite mat is the Indian Paintbrush Mountain scene!
Of course, I couldn't help but do a little personal plug for my landscape print shop! Prints in all sizes available from travels & ventures. In a digital age, I believe in the power of experiencing these views in a more tangible media. There's nothing like the nostalgia of holding prints in your hands or seeing the detail of an image in an enlarged form. Spruce up your space with some of the views my heart holds most dear!
As an avid aventurer myself, I can say that I would gladly receive any of these gifts, especially the ones from businesses striving to protect the beauty of our planet. I hope this list helps you find thoughtful gifts for your own adventurers, and gets you excited about spending more time in the great outdoors!